BEFORE YOU BEGIN, PLEASE NOTE:  To create an account on the OpenLab, you will need to be able to access your SUNY Oneonta email account.  If you don't have one, have never used one, or have forgotten your username and/or password for an existing account, you'll need to contact the Service Desk at 607-436-5467 or helpme@oneonta.edu, or visit the Service Desk on the subfloor of the Milne Library Building. You can also look up your email username here. The Service Desk is not part of the OpenLab, which doesn't handle SUNY Oneonta email account issues.
Once you are sure you can access your SUNY Oneonta email account, go to the OpenLab homepage (https://openlab.oneonta.edu/). You'll see Sign Up on the left side of the screen. Click Sign Up.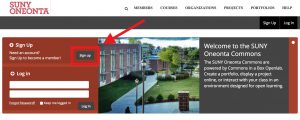 On the next screen, fill in the following fields:
user name (this can't be changed, so choose wisely)
SUNY Oneonta email address
a password for your OpenLab account (this doesn't have to be your SUNY Oneonta email account password–in fact, it's always good to use different passwords for all sites)
display name (this is the name displayed on your profile page, and used to sign posts or comments; it can be changed after signing up)
your first and last name (these will not be displayed on the site)
your account type (student, alumni, faculty, or staff)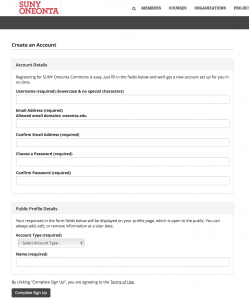 Apart from the SUNY Oneonta email address, all of this information can be changed later by visiting Settings under My OpenLab.
NOTE:  There is a difference between your username, which you use to log in to the SUNY Oneonta site, and your display name, which is visible to others. Your username, for example, might be 'jsmith24' but you might prefer your visible, display name to reflect you professionally or in your SUNY Oneonta roll as student, professor, or staff member:  'jane smith,' for example, or 'Professor Jane Smith'
Once finished, click Complete Sign Up.
At this point, a confirmation email will be sent from OpenLab to your SUNY Oneonta email account.  Visit your SUNY Oneonta email account, and look for an email from OpenLab. Visit your SUNY Oneonta email account, click the link you find in the email from us, and you're officially a member of the OpenLab! (Instructions for accessing student email).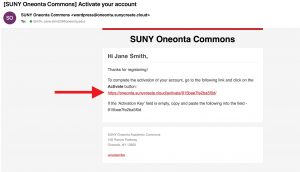 STUDENTS, Please Note: If you don't see the account activation email in your Inbox, please check your Spam folder. Sometimes account activation emails will appear there but not in the Inbox.
After clicking on the link, you will be at the activation page shown below. Your activation key will be prefilled, and all you need to do is click the Activate button.
If not prefilled, please copy the given code from the e-mail and paste in the activation key box.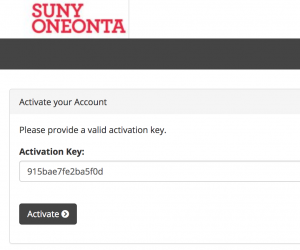 You do not need to go through this process again.  When you want to come back to OpenLab, simply go to our homepage (https://openlab.oneonta.edu/), and log in with the username and password you created in step two.